Many of our PCB and Panel mount switches can be used for a wide range of applications used for a wide range of industries but not limited to Audio & Visual, Door Entry/ Security, Automotive, Industrial Controls, Boat Building & Marine and Broadcast.
Here's an insight to key switches listed and used for Broadcast Application.
Many of our push-button switches, slide switches, rocker switches, knobs and encoders are ideally used for
mixer decks
audio + visual control devices
projector devices
Used for broadcast television, audio and visual equipment.
We supply a wide range of PCB Pushbutton switches, panel mount pushbutton switches which support a range of LED illumination options and custom options. Additionally, all our pushbutton metal switches are IP rated. See our range of PCB and Panel mount electromechanical components such as encoders, relays, tactile switches, sliders, rockers and toggles suited for the broadcast industry.
Many of these switches can be customised with LED illumination or etching. Here is the breakdown of our PCB push button switches and PCB Electromechanical switches suited to the Broadcast application.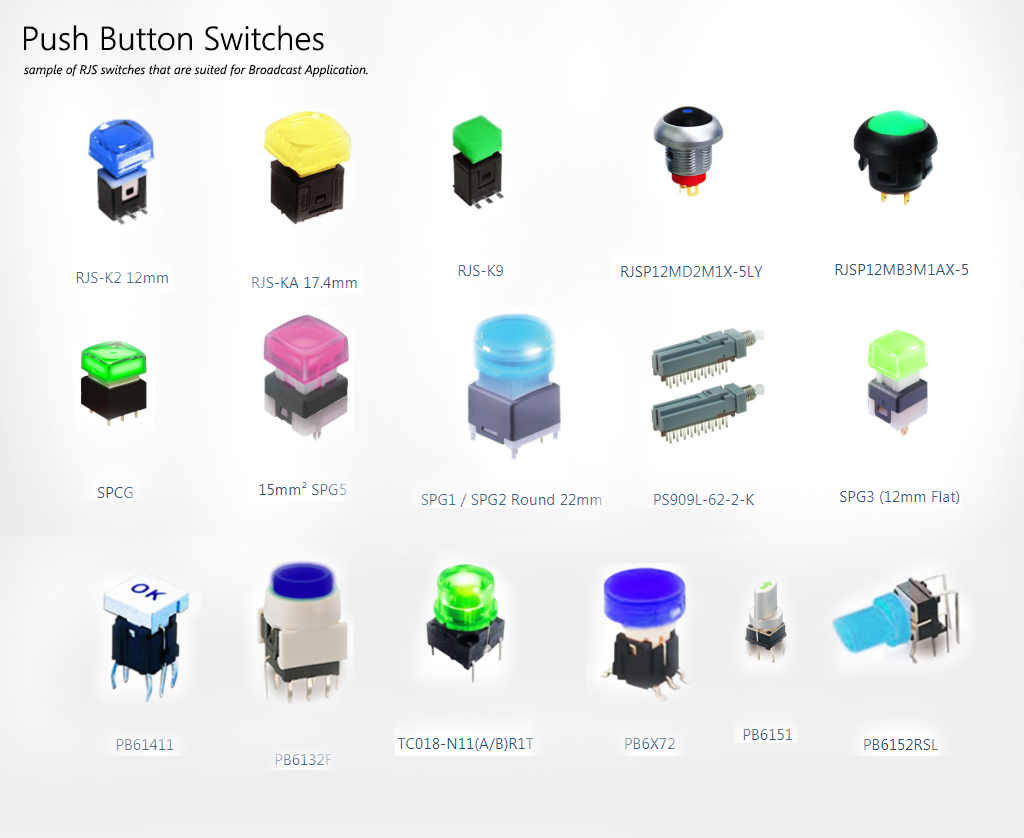 SPG switches – See our range of round, square and rectangular SPG/ SPDG/ Switches, available in a range of sizes and flat/concave. Many of our SPG range support a single, (dual) bi-colour or RGB LED illumination and momentary or latching function.
Illuminated Tact Switches: See our range of illuminated and non-illuminated tact switches, which support single, (dual) bi-colour and RGB LED illumination. See the range of SPJ, PB613/PB614/ KA series.

Knobs & Encoders – Mix and Match our Knobs and Encoders to suit your design. We have a wide selection of knobs both plastic and metal to give your design a truly unique finish and high-quality look and feel.

Slide Switches – Similarly, see our range of Slide switches support a variety of actuator slide and configurations.

Rocker Switches – See our selection of Rocker Switches which can support LED Illumination and custom etching. Many of our Rocker Switches are IP rated and support a variety of configurations, Single Pole Single Throw – 4Pole and Double Throw and variety of actuators.
View our full product range here  | Download our recent product catalogue
See our guide: how to place an order | Find out more about our customisation service
Call us on +44 (0)1234 213600 or email us at [email protected], or use our contact page to leave us a message.
Keep informed by joining our mailing list and be sure to follow us on  Facebook | Twitter |Linked In | Instagram | Pinterest | Youtube